Host
Dave Aizer
Assistants
Jonah Travick
Jessica Holmes
Candace Bailey
Broadcast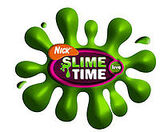 Nickelodeon: 1/22/2000 - 2003
Live from Nickelodeon Studios, where Nick is made, it's SLIME TIME LIVE! Now here's your host, (insert funny messy comment here), DAVE AIZER!
Slime Time Live! was a children's game show on Nickelodeon in between Nick shows. The show was shot outside of Nickelodeon Studios, inside the studio in case of inclement weather.
There were 3 kids competing. The colors for the teams were (yellow, blue, & red).
A kid would be on the phone with Dave and the lucky contestant from either 3 teams in the studio would be selected. He/she would sit in a chair and Dave would mention the grand prize before the chair zooms back near the slime buckets. The contestant on the phone would play a matching game with Nickelodeon cartoon characters on it and he/she would have 20 seconds to find a matching pair. If the contestant found the matching pair, the studio contestant would be slimed. If a contestant landed on the Cream Blaster, the contestant would be blasted with foamy cream after the audience counts down from 3 to 1.
New contestants were selected and the gameplay for this round was similar to the first but a new contestant was on the phone.
Similar to Round 2 with new contestants.
Changes in the game
Edit
In the second season of Slime Time Live, the set changed and there were only two teams of 3 kids. (red and blue). The "Boosty Blaster" was also added which was similar to the Cream Blaster. There was also a quiz game during the show where two kids would be on the phone and to buzz in, they would have to press a number on the phone. If the contestant got it right, a team member would get pied. If the contestant got all 3 questions right, the winning team would get Cream Blasted, Booty Blasted, and slimed which was better known as "The Big Shaboozie". The losing team would just get pied.
Splat!
Friday Night Slime Time
"Let's! Play! Slime Time!"- David and the audience (2000-2003)
International Versions
Edit
There was a British version of Slime Time Live on Nickelodeon in the UK.
Additional Facts
Edit
The Slime Time Live home viewer concept was used long before this program aired. Previously it aired during the Saturday night programming block called Snick.
This game show was succeeded by Splat! and then the one year old Friday Night Slime Time
There was also a version of STL at Nickelodeon Hotel but with different rules and gameplay. Double Dare took Slime Time's place as a live show.
The Bankrupt whistle from Wheel of Fortune was used when someone got "The Whammy".