Hosts
Jimmy Dunn (as narrator/Season 1)
Larry Izzo (Season 2)
Broadcast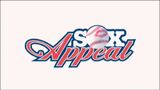 NESN: 2007-2008
Packager
Scout Productions
Sox Appeal was a short-lived, reality dating series that follows a man or woman during three dates, two-inning long blind dates that takes place over the course of a Red Sox game.
Premise
[
]
One "Hero" is sent on three, two-inning blind dates during a red sox game at Boston's world famous Fenway Park and has until the end of the game to choose one.
The second season premiere on August 3, 2008; where former New England Patriots player, Larry Izzo has been added as the host of a post-dater interview segment. Also a "Dater's Dugout" was added in season 2, where the competing daters must stand next to each other during the game in Fenway Park's right field roof deck standing room section to strategize and challenge each other.
Trivia
[
]
Although completely unrelated to the show, their is a also clothing store called "Sox Appeal" that's mostly located at various shopping malls like the Mall of America and Calhoun Square.
Its Packager "Scout Productions" has also created the Bravo series Queer Eye for the Straight Guy the series ran for four seasons from 2003 until 2007. The series will be remade for Netflix in 2017.
The Pink Lipstick-printed Baseball (representing as the "O" in the show's logo) looks similar to that from the posters of the long-running Broadway musical Damn Yankees.
The title of the show is a spoof of the term "Sex Appeal".
Link
[
]