Host
Rahman Johnson
Assistants
Austin Scott
Chloe Dolandis
Courtney Hammond
Valery M. Ortiz
Broadcast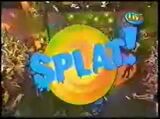 Nickelodeon 2004
Splat! was a short lived spinoff of Slime Time Live! The show was taped inside of Nickelodeon Studios unlike Slime Time Live being outdoors. This was the last show ever to be aired at Nickelodeon Studios before its closing in 2005. Nickelodeon Studios was replaced by a Blue Man Group attraction after its demise.
Gameplay
[
]
There are 3 teams (yellow, green, and red). The red and yellow colors remained, but green replaced blue. The teams compete in physical challenges for prizes. However, there were no other contestants on the phone who participated unlike Slime Time Live.
Trivia
[
]
This show was succeeded by Friday Night Slime Time. Assistant Chloe Donandis would go on to host that show with Lil' JJ. 
Tagline
[
]
"Ready? Set? SPLAT!" - Rahman Johnson
YouTube Link
[
]