Hosts
Jason Agnew & Matt Chin (Nickelodeon version)
Stacey Harkey & Tori Pence (BYUtv version)
Broadcast
Nickelodeon: 5/17/2012 - 8/24/2012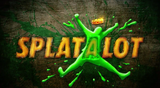 BYUtv: 4/2/2018-present
Packagers
YTV/CBBC/ABC3/Nickelodeon Productions (2012)
Distribution 360 (2018-present)
Splatalot (or SPLAT-A-LOT) is a medieval-themed children's version of Wipeout.
Kids aged 13-15 compete and are known as "The Attackers". The Attackers compete in crazy physical challenges while trying to avoid "The Defenders". The Attackers compete for capturing a crown to be king/queen.
Round 1: Crossing The Moat
Edit
To start the game, the Attackers have to cross the moat where they have to overcome large obstacles in their way plus the defenders. The six fastest Attackers will move on to the next round.
Round 2: Escape the Stockade
Edit
For this next round, the Attackers are trapped in a stockade. In order to escape, they must grab steps of a ladder and their color flag in order to move on. The four fastest Attackers will move on to the final round.
Bonus Round: Capture the Crown
Edit
With only four Attackers remaining, they race across a courtyard full of obstacles and try to avoid weapons. The player that goes to the top and captures the crown is the winner and the king/queen of Splatalot.
The Defenders
Edit
Blue Defenders:
Knightress
Shaiden
Thorne
Red Defenders:
Green Defenders:
A spinoff of Wipeout by Matt Kunitz and Scott Larsen, based on the Canadian game show of the same name.

The title "Splatalot" is a parody of the famous 12th Century castle, "Camelot".
This show is a spinoff from Wipeout.
The famous air horn from Nickelodeon GUTS is used to signal the players to start.
International Airings
Edit
Here is a list of countries where Splatalot is aired:
Canada (Both English and French)
United Kingdom
Australia
Holland
Israel (known as Splat)
and over 100 other countries
External Links
Edit
Community content is available under
CC-BY-SA
unless otherwise noted.