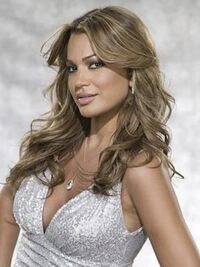 Stacey Gardner, (b. November 6, 1980) is a Beverly Hills native, is definitely not your typical model. Not only does she have the beauty, Gardner also has the brains. Gardner is a graduate of Southwestern Law School and having successfully passed the 2005 bar exam, is now a practicing attorney.
Career
[
]
Although Gardner has spent most of her time pursuing her passion for law, Gardner has always loved the world of fashion, entertainment, and sports. Garnder has pursued a carer in modeling and television and has been featured on the Style network, in high fashion salon ads, and as a red carpet host for FOX Sports, just to name a few.
If you're not taken by her beauty and her wit, then beware of her in the courtroom.
Additionally, she was married in September 2008 to professional tennis player Mardy Fish and the couple will reside in both Florida and Los Angeles. They are extremely excited to begin this new phase of their lives together.
Shows appeared
[
]