Hosts
Bruce Jenner
Pamela Sue Martin
Morgan Brittany
Play-by-Play Announcer
Barry Tompkins
The Comissioner
Dick Butkus
Broadcast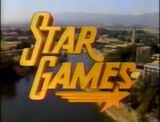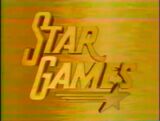 Syndication (Weekly): 9/7/1985 – 3/1/1986 (reruns aired until 9/1986)
Packager
Company III Productions for Viacom
Star Games was a short-lived, thirteen-week competition series that was similar in the veins of Battle of the Network Stars featuring three teams, each composed of six cast members from a particular television series.
Premise
[
]
The teams competed in several athletic events like kayaking, free-style swimming and track relay races. Points were awarded for the top three finishes in each activity. The winning team and the runner-up team of the day moved to the second round of the competition. The first place team each week received $30,000; second place $21,000 and third place $12,000. Twenty-six shows were produced (two sets of thirteen week competitions) with Pamela Sue Martin and Bruce Jenner hosting the first thirteen while Morgan Brittany replaced Martin on the second set of thirteen-week shows.
Trade Ads
[
]
Trivia
[
]
The first thirteen shows were taped at the University of Santa Barbara and the last thirteen at the College of the Desert in Palm Springs.
YouTube Links
[
]
XETV
[
]
It's a Living vs. Emergency!
[
]