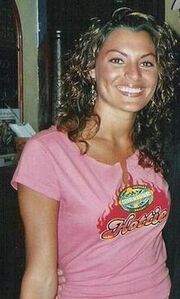 Stephenie LaGrossa (born December 6, 1979) is a former contestant on Survivor: Palau, where she placed 7th, Survivor: Guatemala, where she placed second and Survivor: Heroes vs. Villains, where she was the second person voted out and placed 19th. She was one of the most popular players ever to play the game, with her popularity peaking at 97% (her final popularity ended at 92%). LaGrossa was an In-Arena host for the Philadelphia Flyers of the NHL, and currently works for the radio station WRDW-FM. She was also one of the owners of GIGI Restaurant & Lounge in Old City, Philadelphia.
Personal life
[
]
As the youngest child and only daughter to Stephen and Marguerite LaGrossa, her name was a variant of "Stephanie", yet spelled so it would look like her father's name. She grew up in Glenolden, Pennsylvania. She graduated from Archbishop Prendergast High School in 1998, after which she attended Temple University before transferring to Monmouth University in West Long Branch, New Jersey. She was a four-year starting varsity lacrosse player at both schools, a multiple Northeast Conference All-Conference and Academic Honor Roll selection, and captain of the team in her senior year at Monmouth. She earned a Bachelor of Science degree in business administration with concentrations in marketing and management.
LaGrossa is a former territory sales representative for a pharmaceutical sales company and now models and makes personal appearances. On July 7, 2006 she married longtime boyfriend Michael Ward in Seaside Heights, New Jersey, the same town where they originally met. They were divorced in early 2007.
In 2009, LaGrossa became engaged to Philadelphia Phillies pitcher Kyle Kendrick. A resident of Toms River, New Jersey, they were married on November 13, 2010.
On February 22, 2011, the couple announced they were expecting their first child in September. Their daughter, Sophia Marguerite Kendrick, was born on September 3, 2011. On July 30, 2013, LaGrossa gave birth to their son, Kyle Rodney Kendrick Jr. On October 27, 2018, she gave birth to her third child, Sloane Danielle Kendrick.
Survivor

[

]
Palau

[

]
In 2004, LaGrossa was selected for Survivor: Palau, the tenth overall season of Survivor. The season aired in Spring 2005. At the beginning of the game, LaGrossa made an alliance with Katie Gallagher, Tom Westman, and Ian Rosenberger. When the tribes were picked, LaGrossa ended up on Ulong, while Gallagher, Westman, and Rosenberger were put on Koror, thus alienating LaGrossa from her initial alliance. After Ulong lost every single immunity challenge, she and Bobby Jon Drinkard, the only two Ulongs remaining, competed in a fire-making challenge at Tribal Council, with the loser being eliminated from the game. LaGrossa won and returned to her camp alone. The following day, she was instructed to go to the Koror camp as she was joining their tribe (an unofficial merge). She survived the first vote with her new tribe, when Coby Archa was voted out. However, at the next Tribal Council, the tribe was torn between voting out her or Janu Tornell. But before the vote took place, Tornell quit the game, thus saving LaGrossa from elimination. Before the following Tribal Council, LaGrossa tried to pull all the girls into an alliance, but despite strong lobbying, she was unanimously voted out. As a member of the jury, she voted for Westman to win.
Guatemala

[

]
In one of the bigger twists at the start of Survivor: Guatemala, the 11th season of Survivor, LaGrossa and Bobby Jon Drinkard returned as players to the game, thus making them the second and third contestants in Survivor history to compete in back-to-back seasons (after Rupert Boneham). LaGrossa's gameplay this time was the opposite of her performance in Palau. She played a more cutthroat game, and made it to the Final Three along with Rafe Judkins and Danni Boatwright.
In the Final Three, Boatwright had won immunity during the final challenge, and chose to take LaGrossa instead of Judkins to the final vote. Boatwright's decision worked out well for her, as she beat LaGrossa by a 6–1 vote at the Final Tribal Council.
Heroes vs. Villains

[

]
LaGrossa returned for a third appearance in Survivor: Heroes vs. Villains, the 20th season of the show. She was a member of the Heroes tribe but was labeled kryptonite by fellow cast member James Clement, who stated that whatever tribe she was on would be destined to fail, due to her poor performances in immunity challenges. Her alliance included Tom Westmanand Colby Donaldson, but they were forced into the minority by the other contestants (including Clement) who all had a pre-existing alliance dating back to Survivor: Micronesia, as well as several ties from outside the game. In the second episode, she was eliminated 6–3 despite an effort to target Amanda Kimmel.