Host
Ted Nugent
Broadcast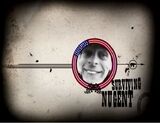 VH1: 10/5/2003-4/4/2004
Packagers
The Jay & Tony Show
VH1 Productions
Surviving Nugent (The Ted Commandments) is a reality competition series where seven contestants travel to rock star Nugent Texas ranch and live and play by his rules.
Premise
[
]
Seven contestants competed in a series of challenges, set on Rocker and huntsman Ted Nugent's 2000-acre Michigan ranch, for a new pickup truck and $25,000. Nugent can eliminate any contestant, at any time for any reason.
Trivia
[
]
For its second and final season the show was renamed Surviving Nugent: The Ted Commandments (obviously a title spoof of the classic 1956 film The Ten Commandments) and it was filmed in China Springs, Texas.
Before having "A Shot at Love", Tila Tequila was a contestant on this show in season 1.
During filming for the second season, Nugent injured himself with a chainsaw, requiring 44 stitches and a leg brace.
Related Shows
[
]
Wanted: Ted or Alive
Runnin' Wild... From Ted Nugent
Links
[
]