Host
Groucho Marx
Sidekicks
Patty Harmon
Jackson "Jack" Wheeler
Announcer
Johnny Jacobs
Broadcast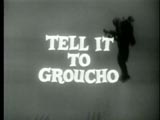 Pilot: Summer 1961 (aired as the premiere)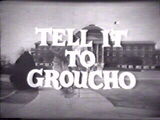 CBS Primetime: 1/11/1962 – 5/31/1962
Packager
John Guedel Productions
Tell it to Groucho was a revamp/spinoff of You Bet Your Life in which banter with the contestants became the focal point of the show, refining elements from the unsold What Do You Want?.
Gameplay
[
]
A contestant attempted to identify up to three celebrity photos, each of which would be flashed on a screen for a half-second. Each photo correctly identified won $500, for a maximum of $1,500; any player who could not identify any of the photos, however, could win a consolation prize of $100 by identifying an "easy picture".
On the pilot, this was slightly different: the player was shown a picture for one-eighth of a second, and identifying it was worth $500. If s/he was wrong, the picture was shown again for a half-second and worth $250, then (if needed) a full second for $100.
Studio
[
]
CBS Television City, Los Angeles, CA
Links
[
]
Tell it to Groucho pilot at The Game Show Pilot Light
YouTube Links
[
]
The full 1961 pilot/January 11, 1962 premiere
A partial episode from April 2, 1962 (Special Guest: Rod Serling)
A full episode from April 19, 1962 (Special Guest: Jayne Mansfield)
A full episode from April 26, 1962 (Special Guest: Fabian)