Host/Inventor
Chip Beall
Announcer
Don Armstrong
Broadcast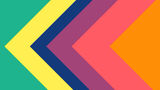 Discovery Channel (Weekly): 7/1/1989 – 8/25/1990
Syndicated (Weekly): 7/3/1991 – 9/11/1993
Bravo (Weekly): 3/4/1994 – 5/27/1994
Packager
Texaco
"Welcome to the Texaco Star National Academic Championship! The best and brightest of America's high school scholars have gathered on the campus of Rice University in Houston to test their academic skills. Over 2,500 teams accepted a challenge. Only one will win. Now, here's your host, Chip Beall!"
Texaco Star National Academic Championship was a quiz bowl for university teams.
Format
[
]
Two teams of four students competing in four rounds (referred to as "quarters").
First Quarter: The Warm-Up Round
[
]
The teams answered toss-up questions worth either 5 or 10 points.
Second Quarter
[
]
This began with a toss-up question worth 10 points. The team whose player gave the correct answer would then be asked up to four bonus questions worth 5 points each, for a possible total of 20 points (for a grand total of 30). A wrong answer at any time stopped progress, and the host would ask another toss-up question.
Third Quarter
[
]
Each team chose one of four categories, and answered up to ten 10-point questions on it for within one minute. If they correctly answered all ten of them, they scored a 20-point bonus. If they couldn't, the opposing team could steal points by answering any missed questions.
Final Quarter: Stump the Experts
[
]
This round featured questions worth 15 and 20 points.
---
The team with the highest score won the match and advanced in the tournament (which was single-elimination).
Studio
[
]
KPRC-TV, Rice University, Houston, TX
YouTube video
[
]