Host
Aisha Tyler (2001-2002)
Announcer
Tom Gottlieb [as a voiceover] (2002-2004)
Broadcast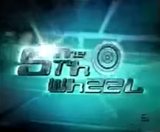 Syndication (Daily): 9/17/2001-5/21/2004
Packagers
Bobwell Productions
Renegade 83
Studios USA
Susan Johnston Casting (Casting)
Distributors
Universal Worldwide Television (2001-2002)
Universal Domestic Television (2002-2004)
The 5th Wheel was a dating show where two dating couples are sent out on a joint date, only to have a 5th person (an extra man or woman) join the group. In the end, everyone has to vote with whom he/she wants to go out, even with the option to choose nobody.
Premise
The show would begin with two men and two women, all of whom were sent out on a joint date. Then a provocative 5th man or woman (hence, "the fifth wheel") would join the group. At that point the participants would swap partners to learn more about them and to decide if they would like to go out with each other. The cameras would follow their every move, while commentary in the form of subtitles, animations, and "thought bubbles" (similar to the style used in Pop-Up Video) was added by the show's producers. At the end, they would all vote on whom they would like to go out with, and an option of choosing "nobody" as well.
Reruns
Reruns were eventually aired on the now-defunct Fox Reality Channel but was later removed from its lineup. An "uncensored" version of the show without pixelated nudity or profanity censored was made available via pay-per-view and video on demand under the Too Much For TV branding of American PPV provider In Demand, and remains a part of the service's rotation several years after the show's departure from broadcast television.
Trivia
Originally the closing slogan was "where strangers become friends, friends become lovers, and lovers become bitter, suicidal exes all on the same show". However, when Gottlieb took over the show, the slogan was altered according to the say "Where strangers become lovers and lovers become bitter suicidal exes all in the same show".
Rating
See Also
Link