Host
Luke Stuckmeyer
Broadcast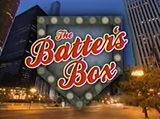 Comcast SportsNet Chicago: 2012
Packager
StarPilot Productions
The Batter's Box was a game show in Chicago where Cubs fans were pitted against Sox fans in an elimination tournament with a format similar to Who Wants to Be a Millionaire? combined with baseball. Winners received a prime seat at their favorite ballpark and a chance to throw the first pitch.
Gameplay
[
]
Two baseball fans (one a Cubs fan, the other a Sox fan) competed in three innings of six baseball questions each (three for each player) on each show.
The player in control could choose to either answer a "Single", "Double", "Triple" or "Home Run" question. The bigger the value, the more difficult the question. On each question, four answers were revealed after the question was asked. Each correct answer took his/her runner to the appropriate base. But an incorrect answer stood pat. When a fan's runner made it home, he/she scored a run.
Helpers
[
]
If a fan got stumped, he/she can call for one of two helpers. They were:
Work the Count (50:50) – Two incorrect answers were eliminated from the question.
Pinch Hitter – A friend of the player in control assisted in answering the question.
Players could use a helper once in a game, and no helper could be used on any "Home Run" question.
---
The player with the most runs won the game.
Music
[
]
Peter Lenname
Sponsors
[
]
Midas
AT&T
Domino's Pizza
Inventor
[
]
Based on the Boston-area show of the same name.
Other Version
[
]
The Batter's Box – Original version of the show from Boston
Links
[
]
Official Site
Batter's Box Sample Clip
YouTube Videos
[
]
9/9/2012
9/16/2012