Host
Mark Cuban
Broadcast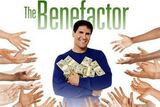 ABC: 9/14/2004 - 10/25/2004
Packager
12 Yard Productions
The Benefactor was a short-lived reality show in which 16 contestants are vying to win US$1 million from Billionaire entrepreneur and Dallas Mavericks owner Mark Cuban.
Gameplay
[
]
The premise involved 16 contestants vying to win US$1 million from host Cuban. The series was widely seen as a ripoff/copycat and derivative of The Apprentice, a popular show of the time that was hosted by Donald Trump. The Benefactor debuted about nine months after The Apprentice did, though The Benefactor focused more on offbeat and unconventional tasks that were unrelated to business, as opposed to The Apprentice's commerce-related tasks. The Benefactor also offered a straight cash prize as opposed to an apprenticeship with salary.
Rating
[
]

Trivia
[
]
Mark Cuban is the owner of the Dallas Mavericks basketball team and is a successful billionaire entrepreneur.
In late March and early April 2004, just before the show went to air, ABC held open auditions for the show in Atlanta, Boise, Boston, Dallas and Las Vegas and also accepted auditions by mail.
Link
[
]