Hosts
Randy Merriman

(1951–1957)


Robert "Bob" Paige

(1957–1959, 1962)
Bert Parks (1959)
Sub-Hosts
Bobby Sherwood
Warren Hull
Ralph Paul
Bob Haymes
Jimmy Blaine
Hostess
Bess Myerson
Sub-Hostess
Hollis Burke
Sydney Smith
Announcer
Ralph Paul
Mort Laurence
Models
Pat Conlon
Nancy Walters
Marion James
Pat Conway
Fran Miller
Broadcast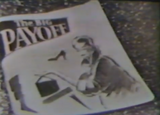 NBC Daytime: 12/31/1951 – 3/27/1953
NBC Primetime: 6/29/1952 – 9/14/1952, 6/21/1953 – 9/27/1953
CBS Daytime: 3/30/1953 – 10/16/1959

Syndication (Daily): 9/3/1962 – 12/21/1962 (with reruns through 3/15/1963)
Packager
Walt Framer Productions
The Big Payoff was a quiz game show where contestants would have a chance to win prizes.
Gameplay
[
]
Contestants were selected from men who mailed in letters explaining why the women in their lives deserved prizes. The men were asked up to four questions (delivered on a silver tray by "Question Girl" Susan Sayers) for luxurious prizes like jewelry, appliances, and other prizes. If he correctly answered all of the first three questions, he would be asked a Payoff Question which, if answered correctly, won the couple the "Big Payoff" of a mink coat for the wife, a car for the man, and a trip aboard Pan American Airlines (later KLM Royal Dutch) for both.
During the daytime edition's final three weeks, the format changed to three couples competing in a guessing game for points. After three questions, the couple with the highest score answered the Payoff Question. For the 1962 revival, there were only two couples.
Tickets
[
]
Music
[
]
"A Pretty Girl Is Like A Melody (Theme Song)" - Irving Berlin
Vocals - Betty Ann Grove, Denise Lor, and Judy Lynn
Taping Location
[
]
New York City, NY