Hosts
Jack Barry (1955–March 1956)
Mike Wallace (March 1956–1957)
Announcers
Lee Vines
Jack Clark
Hostesses
Lorraine Rogers (Assistant)
Sue Oakland (Easy Question Girl)
Mary Gardner (Hard Question Girl)
Broadcast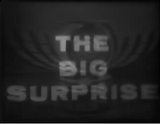 NBC Primetime: 10/8/1955 – 6/9/1956, 9/18/1956 – 4/2/1957
Packagers
Louis Cowan Productions
Entertainment Productions Inc.
1957 INTRO:
"Tonight (insert contestant's name) must decide to insure or risk everything on a question worth (insert amount) and continuing his/her climb toward the big money (insert contestant's name). And facing a question worth (insert amount) on the (inset category) (insert contestant's name)… on the show the offers the fabulous big prize of $100,000. The show called The Big Surprise, presented by the Purex Corporation's family of products for your family: wonderful new Beads-O-Bleach, Trend detergent, the brand the smart girls buy and new Blue Dutch Cleanser with exclusive Blue Magic Action. And here's your $100,000 host, Mike Wallace!"
The Big Surprise was the big money quiz show that was created in response to the sudden success of The $64,000 Question on CBS.
During the first six months on the air, the format underwent numerous format changes. Originally, contestants were people who had performed some worthy deed. They appeared with their "reporters" who came along to tell why they had suggested the contestant. The game consisted of questions based on the contestant's family, friends, hometown, hobbies and special interests with correct answers taking the player from $1 to $100,000. If a contestant missed one of the first four questions, the game was over.
At one point during the game, a contestant could be "rescued" if he or she missed question by having someone else correctly answer a substitute question. The rescuer then got ten percent of their winnings. Another innovation was the use of "easy" and "hard" questions. If players missed easy questions they lost all of their winnings, while if they missed hard questions, they only lost half of their winnings. Easy questions were brought in by Sue Oakland while they hard ones were brought in by Mary Gardner.
On March 10, 1956, Mike Wallace replaced Barry as the new host for the show. By then, the format had evolved into a quiz where the contestant chose a category and then answered ten questions raging in value as follows:
$100
$200
$300
$1,000
$2,000
$3,000
$10,000
$20,000
$30,000
$100,000
The contestant could also answer two insurance questions that would guarantee all of the winnings up to that point even if he or she missed a subsequent question.
NBC Studio 6A, New York City, NY
All questions above the $2,000 level were prepared under the supervision of James Colvin of the Encyclopedia Britannica editorial board.
Movie superstar Errol Flynn was a celebrity contestant in 1957.
For the summer of 1956, this series was replaced by the final season of Down You Go, which was also produced by Louis Cowan.
Community content is available under
CC-BY-SA
unless otherwise noted.