Host
Robby Presto
Broadcast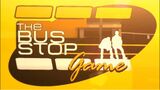 Bounce TV: 2013
Packager
The Bus Stop Game LLC
The Bus Stop Game is a game show similar to Cash Cab but with a bus picking up unsuspecting people at various bus stops and then quizzing them as they travel.
Premise
[
]
A refurbished VW bus from 1978 rolls up on unsuspecting contestants at bus stops and station all across the United States and/or International. once they've stopped, a few lucky chosen contestants at the bus stop will get a chance to answer trivia questions for cash!
The game is played on a traditional Tic-Tac-Toe styled board. To get started, the contestant get free range to chose any topic listed on the board. Some of the trivia topics include, Sports, World History, Health and Show Biz.
Once the topic is chosen, the monetary value of the question is revealed. If the contestant answer the question correctly, they win the sum of all the money once they win the game. If they lose, instead of cash they get a big red "X" to signify the answer is wrong.
The object of the game is to answer as many questions as it takes to line up three squares. Once all three squares in a column, diagonally or in a row are answered correctly, the contestant wins the sum of all the money.
Rating
[
]

Inventor
[
]
Sean Wright
Links
[
]
Official Site (via Internet Archive)
Bounce TV's site
Local man creates "Bus Stop Game"