Host
Richard Curtis
Broadcast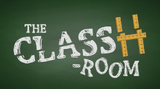 WTXF (Fox 29): 10/1/2018 – Present
The ClassH-Room is a game show where it pits three-person teams of local teachers vs. their students (grades 7-12) as the winning team decides which school receives a monetary donation.
Premise
[
]
Each episode features students and teachers from the same school competing against each other To Compete For A $500 Check .
Trivia
[
]
The title is a spoof of the term "The Classroom".
In 2016, Curtis competed to become Kelly Ripa's co-host on Live with Kelly!
Links
[
]
Official Website
Official YouTube page
Official Instagram Page
Official Twitter Page
Curtis-will-pit-teachers-against-students-in-the-classh-room-on-fox-29 Richard Curtis will pit teachers against students in 'The ClassH-Room' on Fox 29