Host
Bill Malone
Announcer
Richard Hayes
Broadcast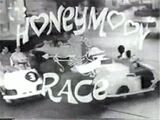 ABC Daytime: 7/17/1967 – 12/1/1967
Packager
Supermarket Sweep/
Talent Associates Productions
OPENING SPIEL: "These young people are having a marvelous time because they're all on their Honeymoon! In Florida! The Honeymoon State! And these three couples are not only enjoying their honeymoon, they're also getting ready to compete in a wild and wacky romp for wonderful prizes! On The Honeymoon Race! This portion of The Honeymoon Race is brought to you by (insert sponsor commercial)! (after sponsor commerical): This is the fabulous Hollywood Mall in Hollywood, Florida! And these are our honeymooners who are going to speed through this mall today in an exciting race to win a perfect prize for their honeymoon home! And now, to put them through their places, here is your honeymoon host, BILL MALONE!
The Honeymoon Race was the short lived spin-off/replacement of/for Supermarket Sweep where married couples race around a shopping mall.
Gameplay
[
]
Three married couples currently on their honeymoon riding in their electric golf carts (with the wives driving) in a Hollywood shopping mall in Hollywood, Florida, played games for big prizes.
The three couples competed in a scavenger hunt or a series of stunts in the mall. There were five items/tasks and the couple to finish first were the winners. The couples received prizes based on the order that they finished.
Two games with two different sets of couples were played each show.
Origination
[
]
Hollywood Mall, Hollywood, Florida
YouTube Links
[
]
Full Episode
[
]