Host
Tom Papa
Broadcast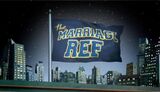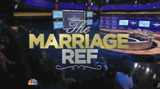 NBC: 2/28/2010 - 8/14/2011
Packagers
Columbus 81 Productions
Ellen Rakieten Entertainment
Shed Media US
The Marriage Ref was a short-lived reality show and panel game where a rotating group of three celebrity panelists judge couples in the midst of marital disputes while recommending various strategies to resolve their problems.
Premise
[
]
The premise of this show involves real-life couples who have an ongoing argument, this had two very different premises.
Season 1
[
]
In season 1, a video clip was shown to a three-member celebrity panel depicting both sides of a dispute. the celebrities often made humorous observations, deliberating the merits and voted on who should win the debate. Though the Marriage Ref (Papa) took their votes into consideration, he was free to make his own decision about who was right.
In addition to the celebrity panel, season one featured a fact checker who could provide additional information to aid in the decision making. Mainly, NBC Today correspondents Natalie Morales, Maria Menounos and MSNBC's Mika Brzezinski filled this role.
Season 2
[
]
In season 2, couples will appear live in the studio and at the end of each show the studio audience would vote on which of the night's three winner's is "The Rightest". The winner will receive $25,000 and a billboard in his/her hometown declaring that he/she is right.
International Versions
[
]
Countries that have previously aired their versions of The Marriage Ref include:
Arab World
Argentina
Russia
Serbia
United Kingdom
Rating
[
]

Trivia
[
]
The show is produced by actor and comedian Jerry Seinfeld.
Host Tom Papa once had a short-lived sitcom airing on the same network called Come To Papa, which only aired from June 3 to June 24, 2004 in a four episode only run until its cancellation.
Reviewers often have described this show as a renewal of the panel game format in classic American television.
On May 13, 2012 the network cancelled the series.
Links
[
]