Host
Laila Ali
Broadcast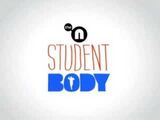 The N: 7/11/08-8/24/08
Packager
Reveille Productions
The N's Student Body (not to be confused with the 1981 comedy film and the short-lived 1997-99 teen sitcom of the same name called Student Bodies) was a short-lived eight-episode reality competition series in which twelve students from MacArthur and Eisenhower high schools in Decatur, Illinois tries their best to change their bodies, their nutrition and their attitudes.
Premise
[
]
Host Laila Ali challenges twelve out-of-shape and overweight students from rival schools to change their bodies, their nutrition and their attitudes. The winning school takes home $25,000. Whoever loses the most weight wins $25,000 themselves. The rules changed at the end of the competition as the grand prize was awarded for "biggest overall transformation".
Every week, the two schools compete in some sort of challenge. The school who wins the challenge gets a reward, such as a yacht ride or being served dinner by the other team. The losing team however, gets "punishment" like husking corn or cleaning the bleachers after a high school football game.
Weigh-Ins & Evaluations
[
]
After the challenge and reward/punishment, the school go to the weigh in to find out what their current weight is, therefore evaluating how much weight has been lost that week. Later, the teams go to an evaluation where they are given 1 of 3 different rankings:
Green: The student is making progress.
Yellow: The student is not making progress (3 yellows equal a red).
Red: The student isn't invested in the competition and is asked to leave.
Trivia
[
]
The winner for this short-lived series was Mike Walker for his overall change in attitude and self-esteem.
The shows tagline is : Competition is Tough, Change is tougher.
Link
[
]