Hosts
Burt Ward (1971)
Dick Patterson (1976)
Bob Eubanks (1978/1982)
Assistants
Paul Willson (at least 1971)
"Dr. O" (all pilots)
Broadcast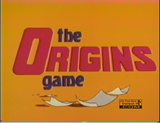 Unsold Pilots for Syndication: 1971, 1976, 1978, 2/1982
Packagers
Filmation Studios/SFM Entertainment
The Origins Game was an unsold game show by Filmation that was to blend animation and live-action.
Format
[
]
Players were given two stories about how something (daily events, superstitions, customs, expressions, etc.) originated, and had to select the correct story. In later pilots, this was simplified to give the players one story at a time and have them determine whether it was true or false.
For at least the 1978 pilot, questions were acted out via four vignettes performed by The Off-the-Wall Players, a Los Angeles improv group.
Trivia
[
]
This was Filmation's only attempt at producing a game show.
The October 20, 1971 Daily Variety gives the show's title as "The Origin Game" (no S) on Page 11. It is not known if this was a typo, but "Origins" is used for all known mentions of the other three attempts in Variety and other publications.
The 1976 pilot used children as contestants, with Bob Crane appearing in one skit.
At least the 1982 pilot was shot for Prime Access slots in daily syndication, with SFM Entertainment co-producing.
All four pilots have been released to DVD by On the Run Video as part of "Filmation Presents", a four-disc set of various unsold pilots and scrapped projects the company attempted over the years.
Print Ad
[
]
Links
[
]
On the Run Video's page to purchase the "Filmation Presents" DVD set
Blog post about the 1982 pilot by multi-time game show contestant Jim Korkis
YouTube Video
[
]