Host
Dick Enberg
Announcer
John Hilliard
Broadcast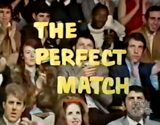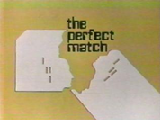 Syndication (Daily): 9/18/1967 – 9/13/1968
Packagers
Bill Derman Productions
Distributor
Screen Gems Television
"These three young men have been matched by a computer with these young ladies. Are you able to tell who has been matched to whom? (music plays) Welcome to THE PERFECT MATCH, the game where contestants attempted to discover who the IBM 360 computer has selected as their perfect match, and here's the perfect man to help us all find The Perfect Match, Dick Enberg!"
The Perfect Match was a short-lived syndicated game show that featured two three-member teams (men vs. women) who tried to discover which mates an IBM system 360 computer had selected as their "perfect matches".
Format
The computer choose three matches for each of the six players. Each player received $50 if he or she chose the match the computer had selected and if both players picked each other they won a bonus prize (later $200).
Gameplay
In the first round, the men were presented with a romantic situation such as: "You're sitting on a bus next to an attractive young woman who has her eyes closed. Suddenly she slumps over fast asleep on your shoulder just as your coming to your stop. How would you go about waking her?" Each of the male players responded and women then questioned them. A second situation was presented to the women as the men followed with questions.
In the second round, the players each responded "Yes" or "No" to questions read by them. Samples included: "Do you think men should wear long hair?" and "Do you think a woman will use any means to catch a man?"
The third and final round was a free association with the host (Enberg) reading the beginning of a sentence and players finishing it with the first thoughts that entered their heads. At the conclusion of this round, players made their guesses as to who was selected for them.
Trade Ads
Studio
KTLA-TV, Los Angeles, California
Inventor
Link