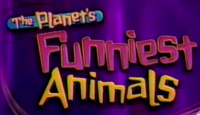 The Planet's Funniest Animals was an animal/pet spinoff of America's Funniest Home Videos.
Broadcast
Edit
Animal Planet: 2/17/1999 - 9/6/2008
Matt Gallant (1999-2005)
Keegan-Michael Key (2005-2008)
Announcer
Edit
John Cramer
The premise was similar to AFV but there are only home videos of the filmer's pets or animals. And of course, they have to be of situations gone wild with the animals or pets. The funniest video out of all the videos gets the grand prize.
Gregg Kellogg
Jeremy Sweet
Funniest Pets & People - a spinoff similar to Planet's Funniest Animals and AFV.
In Popular Culture
Edit
Saturday Night Live did two parodies entitled, "America's Funniest Cats" and "America's Funniest Pets". The "America's Funniest Pets" version had Tom Hanks portray Ron Howard as the host. In the "America's Funniest Cats" version, Finn Raynal-Beads (portrayed by Adam Driver) hosted, even though he claims his name is Finn Reynolds. 
International Versions
Edit
A British version was aired on ITV.