Broadcast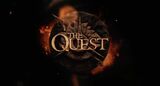 ABC: 7/31/2014 - 9/11/2014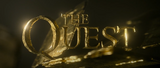 Disney +: 5/11/2022-present
Packagers
Profiles Television Productions
Court Five
Green Harbor Productions
New Media Collective (NMC)
Scout Productions
(Disney's) The Quest is a reality adventure that takes twelve (eight in the Disney + version) lucky contestants on the journey of a lifetime when they enter the world of "Everealm".
Premise
[
]
For twelve (eight in the Disney's + version) lucky souls, a fantastic world will come alive in a unique competition series where players will engage in epic challenges where fantasy meets reality all the while conjuring a land of magic and malevolence and mythical creatures lurk in the woods, agents of darkness stir in the shadows and mystical beings infiltrate the keep, one player will emerge as a real-life hero.
Contestants
[
]
Season 1
[
]
12th Place - Katie Smaluk
11th Place - Ashley Guerrero
10th Place - Jim Curry
9th Place - Jasmine Kyle
8th Place - Christian Sochor
7th Place - Adria Kyne
6th Place - Leticia Reyes
5th Place - Bonnie Gordon
4th Place - Patrick Higgins
3rd Place - Shondo Blades
2nd Place - Andrew Frazer
Winner/One True Hero - Lina Carollo
Season 2
[
]
6th Place (tied) - Myra
6th Place (tied) - Shaan
6th Place (tied) - Caden
4th Place (tied) - Serean
4th Place (tied) - Ava
3rd Place - David
2nd Place - Toshani
Winner/One True Hero - Holden
Rating
[
]

Revival
[
]
Disney announced in January 2020 that a revived version of The Quest will be produced for its Disney+ streaming service, with van Munster and Doganieri as showrunners. van Munster had pitched the revival to Disney after they had announced plans for the streaming service. The new version was originally going to be filmed at Burg Kreuzenstein as in the first season, but production was moved to Castello di Amorosa in Napa Valley, California due to the COVID-19 pandemic. The new version will have the same type of narrative/reality game structure, but will feature primarily teenaged contestants, as van Munster stated the original show's broadcast had attracted a high teen demographic.[1]
Links
[
]
ABC Version
Disney + Version
Official Twitter Page for the ABC version
References
[
]