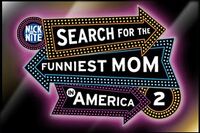 A six-part reality series that features a competition between ten female comedians who competed for $50,000 and the opportunity to develop a show for Nick at Nite and host a special night of programming on the network.
Broadcast
[
]
Nick at Nite May 3, 2005-May 13, 2007
Hosts
[
]
Sandra Bernhard (season 1)
Katey Sagal (Season 2)
Roseanne Barr (Season 3)
Trivia
[
]
Season 2 host Katey Sagal is best known for playing Al's wife Peg Bundy on the 1987-1997 Fox sitcom Married...with Children and for being the voice of Turanga Leela on Futurama.
As of season three, however, the winner is no longer given the oportunity to develop her own show and no television series starring any of the winners from past seasons has made it to air.