Hosts
Elvira
JD Roberto (Finale)
Manviras
Christian Greenia
Patterson Lunquist
Helga/Mini-E
Cindy Sorenson
Guest Judges
Kane Hodder
Rick Baker
Broadcast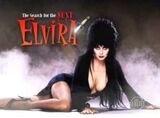 FOX Reality Channel: 10/13/2007-10/31/2007
Packager
Natural 9 Entertainment
Distributor
20th Television
The Search for the Next Elvira features the famed horror hostess & self-proclaimed "mistress of the dark" searches for an unsuspecting young lady to be the next Elvira with the help of her two "Manviras".
Contestants
[
]
The "Unlucky Thirteen" included:
Ms. Monster (aka A.K. Smith), a San Francisco-based horror hostess.
Yvette Nii, Singer/Entertainer based out of Honolulu, Hawaii
Asia DeVinyl, a goth and fetish pin-up model.
Mina Rose, a model and member of Suicide Girls.
April Wahlin, an aspiring writer and a self-proclaimed tomboy.
Jenny Jenson, a marketing director who is fluent in Mandarin.
Erik-a (aka Eric Bedelman), the only male contestant to make it into the semi-finals.
Shelly Martinez, a former ECW wrestler who performed under the stage name, Ariel, and former TNA Knockout.
Jilina Scott, an actress and television hostess.
Lady M (aka Milli), a sales specialist from Baltimore.
Kitty Korvette, bassist of Texas-based, goth country bands, Black Molly & Midwest Monster.
Bridget Marquardt, a Playboy model, one of the stars of the reality show, The Girls Next Door and host of her own Travel Channel series Bridget's Sexiest Beaches.
Lola Davidson, an actress.
Elimination Order
[
]
Call Out & Elimination Order

1
2
3
4
01
Lola
Ms. Monster
Ms. Monster
Kitty
02
Yvette
Yvette
Jilina
April
03
Amanda
Asia
Kitty
Jenny
04
Jill
Mina
Jenny
05
Shelly
April
April
06
Anabelle
Jenny
Bridget
07
Bridget
Erik-a
08
Kitty
Shelly
09
Mischief
Jilina
10
Jenny
Lady M
11
Savage
Kitty
12
April
Bridget
13
Cecily
Lola
14
Mina
15
Ms. Monster
16
Lady M
17
Jilina
18
Erik-a
19
Connie
20
Asia
    

The contestant was saved and continued into the next round.

    

The contestant was eliminated and burned to ash.

    

The contestant was initially saved by the judges, but eliminated by the other contestants.

    

This contestant was chosen to be the next Elvira.
Trivia
[
]
Prior to being a contestant on this program Bridget Marquardt was better known for starring on E! network's hit reality show The Girls Next Door from 2005 to 2010. She later hosted her own Travel Channel summer series called Bridget's Sexiest Beaches.
Link
[
]
YouTube Videos
[
]