Hosts
Joey Fatone & Melanie Brown
Broadcast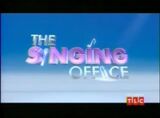 TLC: 6/6/2008 - 8/24/2008
Packager
Fox Television Studios
The Singing Office was a short-lived spinoff of The Singing Bee where office employees face-off in a singing competition, where the winners are trained to perform a musical number in front of a large studio audience.
Premiere
[
]
Each week, hosts Joey Fatone and Melanie Brown surprise an office, hold an impromptu audition in front of their co-workers to create a team of five best singers and help them prepare their time in the spotlight. Then, it's off to the stage for a choreographed sing-off to earn a spot in the finale and a chance to win $50,000.
Australian Version
[
]
An Australian version hosted by comedians Nick Giannopoulous and Julia Morris aired as a 13-part series on Fox8 in 2007. Each week, their were two groups of five coworkers as both companies competed in a one-hour singing competition. Judges decided each week's winner. Twelve groups competed in the finale for a trophy.
Originally, host Giannopoulous first turn down the show until he saw the Dutch pilot, for which he thought was different and fun as he said that the contestants are "uniquely Australian" and that they are very similar to who people work with.
Inventor
[
]
A spinoff of The Singing Bee by Phil Gurin & Bob Horowitz.
Rating
[
]