Host
Allen Ludden
Announcer
Tony McClay
Broadcast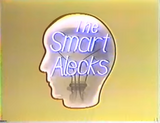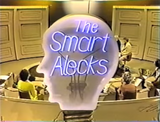 Unsold Pilot for NBC: 4/30?/1977
Packager
Ivie-Hill Productions
"Here come The Smart Alecks! Meet the always-provocative David Letterman! Everybody's mama, Pat Carroll! That dandy cowboy, Don Meredith! And now, a man of ideas, Allen Ludden!"
The Smart Alecks was an unsold show focusing on inventors trying to get their inventions to the market, predating shows such as American Inventor by decades.
Gameplay
[
]
Each of the game's three "rounds" focused on one inventor and his or her invention, during which the celebrity panel would take turns asking questions to the inventor regarding the product. After the questions had been asked, the panel would give a small speech of their opinions to the People Panel, a selection of ten people from the audience who "represent you, the American public."
Each member of the public gave the invention a score of 1-50 in three categories: necessity ("Do we need it?"), practicality ("Does it work?"), and marketability ("Will it sell?"). The cumulative scores were converted to dollars and given to the contestant for further research and development.
Links
[
]
The Smart Alecks at The Game Show Pilot Light
YouTube Video
[
]