Host
Meredith Molinari
Judges
Brent Gocke (S1-3)
Adrianne Curry (S2-3)
Hal Sparks (S1)
Various Special Guest Judges
Broadcast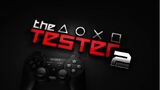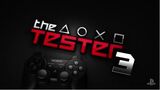 PlayStation Network: 2/18/2010-4/3/2012
Packager
51 Minds Entertainment
Distributor
Endemol
The Tester (later as The Tester 2 and as The Tester 3) was a serial reality competition series where it features 11 contestants, selected from thousands of applicants, competing in a variety of challenges to win a job at Sony Computer Entertainment in quality assurance as a game tester with a $5,000 bonus along with a PlayStation 3 (a.k.a. PS3) video game console.
Premise
[
]
Host Meredith Molinari guides the contestants through physical challenges based on skills required of game testers, such as critical eye for detail and effective communication. Each week, with the exception of the finale, at least one contestant is eliminated by a panel of three judges: release manager for Sony first-party quality assurance Brent Gocke, former America's Next Top Model winner Adrinne Curry (Hal Sparks in Season 1) and a special guest judge.
Eliminations are based on performance in the weekly challenges. The show is notable, however, for occasionally breaking its own rules during these eliminations. For instance, in the first episode of season three, instead of eliminating two contestants as planned, only one was voted out.
In the finale, the three remaining contestants race each other in a final challenge with multiple chapters with the first contestant to complete all chapters is then crowned as "The Tester".
Trivia
[
]
The series was billed as the first live-action show that was distributed on a video game console (mainly PlayStation 3).
The series has produced three winner during its three seasons: Will "Cyrus" Powers (Season 1), Matthew "Gaymer" Brown (Season 2) and Wilson "AkilleezMight" Santiago (Season 3).
Along with the series being a free download on the PlayStation Network. Full seasons can also be streamed from the PlayStation website or on Crackle.
Links
[
]
The Tester from PlayStation's Website
The Tester @ Crackle.com