Host
Carson Daly
Co-Hosts (Social Media)
Alison Haislip (Season 1)
Christina Milian (Season 2)
Broadcast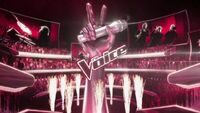 NBC: 4/26/2011 – Present
Packagers
Warner Horizon Television
Talpa Media (2011-2019)
Mark Burnett Productions (2011-2012)
One Three Media (2012–2014)
United Artists Media Group (2014-2015)
MGM Television (2016-present)
ITV America (2020)
The Voice is a singing competition where only the voice of the person will be judged. Judges/Coaches will have their backs turned to the performers while they are competing so that only their voices can be heard.
Of the coaches, Blake Shelton holds the record for the most acts to win with 7, followed by Adam Levine in second with three. Blake and Adam are also the only coaches to appear in every season. Blake has also had an act reach the finals every season except for 5 when his final remaining act, Cole Vosbury, was eliminated just before the finale. Christina Aguilera became the first female coach to win while Kelly Clarkson is the first female coach to win multiple times and the second to win consecutive seasons following Blake.
Places that have done their own versions of The Voice include:
Afghanistan
Africa (French-language only)
Albania and Kosovo
Angola and Mozambique
Arab World
Argentina and Uruguay
Armenia
Australia
Azerbaijan
Belgium (Dutch, Flanders & Wallonia language only)
Brazil
Bulgaria
Cambodia
Canada (Quebec; French language only)
Chile
China (Mandarin, Uyghur language only)
Colombia
Croatia
Czech Republic and Slovakia
Denmark, Faroe Islands, and Greenland
Ecuador
Finland
France
Georgia
Germany
Greece and Cyprus
Hungary
Iceland
India
Indonesia
Ireland
Israel
Italy
Japan
Kazakhstan
Lithuania
Malaysia and Singapore
Mexico
Mongolia
Myanmar
Nepal
Netherlands (country that originated the program as The Voice of Holland)
Nigeria
Norway
Pakistan
Peru
Philippines
Poland
Portugal
Romania and Moldova
Russia
South Africa
South Korea
Spain and Andorra
Sweden
Switzerland and Liechtenstein
Thailand
Turkey
Ukraine
United Kingdom
Vietnam
Based on the Dutch show The Voice of Holland by John de Mol

A karaoke video game called The Voice: I Want You was released for the PS3, Xbox 360, Wii & Wii U on October 21, 2014.
The Voice was given a homage on Sesame Street, where the judges had to find a real voice.[1]
Saturday Night Live parodied The Voice in 2013 featuring Melissa McCarthy
The Voice was also parodied at the 2014 People's Choice Awards
Community content is available under
CC-BY-SA
unless otherwise noted.