Host
Peter Marshall
Announcer
Bob Brunner
Broadcast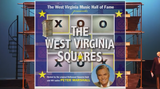 West Virginia Public Broadcasting's official YouTube channel & wvpublic.org: 6/23-24/2014
"Welcome to WEST VIRGINIA SQUARES! Tonight, welcome (insert first eight celebrities) and (insert ninth celebrity) and I am so proud to reintroduce to West Virginia one of our proudest native sons and a wonderful man, give it up for Peter Marshall!"
The West Virginia Squares is a special version of Hollywood Squares mainly focusing on the music and history of the titular state as part of a live event called FestivAll.
Premise
[
]
Same as Hollywood Squares: get three squares across, up and down, or diagonally by correctly agreeing or disagreeing with the celebs' answers to questions. Xs were always represented by a male contestant, while Os were always represented by a female contestant.
As with most of the original Marshall version, there was no bonus round.
Celebrities
[
]
Autumn Blair
Billy Edd Wheeler
Bil Lepp
Charlie McCoy
Charisse Hailsop
Danny Jones
Donnie Davidson
Joyce DeWitt
Larry Groce
Landau Eugene Murphy Jr.
Michael Cerveris
Steve Bishop
NOTE:
Joyce DeWitt (Janet Wood from Three's Company) was the only panelist who also appeared on The Hollywood Squares. She, like Marshall, was a born and raised West Virginia native.
Studio
[
]
Clay Center, Charleston, WV
See Also
[
]
Hollywood Squares
Storybook Squares
The Match Game-Hollywood Squares Hour
E! True Hollywood Story: Hollywood Squares
Hip Hop Squares
Nashville Squares
Music
[
]
Main Theme - "WV Mambo" by Michael Lipton and Larry Groce (who was also one of the panelist on the show)
Videos
[
]