Host
Aylin Mujica
Judges
Lorena Garcia
Jamie Martin Del
Campo
Ramiro Arvizu
Broadcast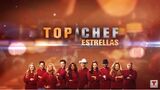 File:Doogie_Kame%C4%81loha,_M.D._Title_Card.png Telemundo: 2/16/2014-3/9/2014
Packager
Magical Elves Productions
Distributor
Telemundo
Top Chef Estrellas is a Spanish-language version of the reality competition series called Top Chef where eight Latino celebrities compete to raise money for a specific charity organization.
Premise
[
]
Eight Latino celebrities competed for the grand title of "Top Chef" and a $100,000 grand prize awarded to the charity of their choice.
Trivia
[
]
The word "Estrellas" translates to "Stars" in English.
This is the only version of the Top Chef franchise to not be aired on Bravo.
Related Shows
[
]
Link
[
]