Host/Executive Producer
Phil Keoghan
Broadcast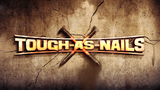 CBS: 7/8/2020-present
Producers
Raquel Productions
Tough House Productions
Tough as Nails (or Tough-As-Nails) is an reality competition television series that celebrates everyday Americans who roll up their sleeves and don't think twice about working long hard hours and getting their hands dirty in order to keep their country running.
The show has been renewed for a second season which was set to premiere in February 2021.
Premise
[
]
Competitors who consider the calluses on their hands a badge of honor will be tested for their strength, endurance, life skills and most importantly mental toughness in challenges that take place at real world job sites.
Link
[
]