Host
Bow Wow (a.k.a. Shad Gregory Moss)
Broadcast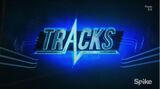 Spike: September 1, 2016
Packagers
Lionsgate Television
Mission Control Media
MX Productions
Tracks is an innovative musical game show where teams of two face off in an attempt to name a song title just by simply listening to its individual "tracks".
Premise
[
]
As mentioned above, the series features teams of two where they must guess the name of song titles just with only the song's individual tracks (e.g. guitar, bass, drum, etc.) as a clue. In addition, the series will also feature surprise celebrity musical guests performances.
Trivia
[
]
In one of the "Back-to-Back" two-episode-only special, Tommy Lee (ex-husband of Pamela Anderson and former member of the rock band Mötley Crüe) will perform the drum track during gameplay.
Christina Aguilera is not only will be featuring special performances for both episodes respectively, but is also one of the executive producers of the show herself.
This series will debut after Lip Sync Battle: TMI (which also features Aguilera's appearance) during an episode featuring Hayden Panettiere vs. Eva Longoria.
Youtube Videos
[
]
Full Episodes
[
]
Link
[
]