Host
Guillermo Huesca
Broadcast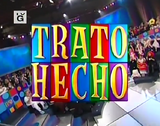 Univision: 1/10/2005 - 12/9/2005
Packager
El Trato, Inc. Para
Trato Hecho (Done Deal) was a short-lived Spanish-language version of Let's Make a Deal.
Premise
[
]
This show primarily ran during the day and was very reminiscent of the 1984-86 version of Let's Make A Deal (better known as The All-New Let's Make a Deal). Zonks were referred to as "Chasco" (Letdown).
The daytime version's Gran Trato (Big Deal) ranged from $3,000-$5,000, with primetime episodes having it over $10,000 (the highest Gran Trato being $26,000).
Studio
[
]
Raleigh Studios, Hollywood, California
Rating
[
]

Inventor
[
]
Based on Let's Make a Deal by Stefan Hatos and Monty Hall.
Related Shows
[
]
Let's Make a Deal
Big Deal
Gameshow Marathon (see in Episode 2 from 2006)
Links
[
]