Host
(Unknown)
Broadcast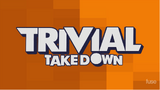 Fuse: 11/7/2017-3/27/2018
Packager
Zig Zag Productions
Trivial Takedown is a comedy game show where your favorite comedians, musicians and social media celebrities face off and have their pop culture and music knowledge tested in a rapid-fire battle. This is an adaptation of the British game show called Blink.
Premise
The show pits two celebrity contestants against each other in a head-to-head competition to identify music and pop culture icons. Additionally, the series would also give viewers the opportunity to test their own pop culture knowledge with polls and trivia on a second screen mobile offering.
British Version
As mentioned above, the original version of the show, under the title Blink hosted by Vikki Stone ran on Channel 4 from 1 October (October 1) 2016 until 15 June (June 15), 2017.
Links