Host
Bert Parks
Broadcast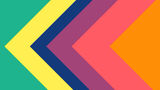 CBS Primetime: 6/19/1954 – 9/11/1954
Packager
Robert Jennings Productions
Two in Love was a short-lived, weekly romantic quiz show for devoted couples.
Premise
[
]
Contestants on the show were engaged, newly married or celebrating an anniversary. They were joined onstage by relatives and friends who talked about the couples and participate in a quiz segment designed to build up a "nest egg" for the lucky pair.
Trivia
[
]
Host Bert Parks left his native Atlanta at age 19 to try his luck at network radio in New York. He wounded up as a singer and straighthman for comedian Eddie Cantor and an announcer on the Benny Goodman and Xavier Cugat radio shows.
Taping Location
[
]
New York City, NY