Hosts
Marc Summers (Season 1 only)
Guy Fieri
Broadcast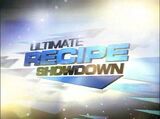 Food Network: 2/17/2008 - 4/18/2010
Packager
High Noon Entertainment
Ultimate Recipe Showdown was a reality competition series where After a nationwide recipe contest, nine finalists in six different food categories prepare their dishes defore a live studio audience for a chance to win $25,000.
Premise
[
]
Each contest had three home cooks who had won their way into the competition. The episode had a theme such as "comfort food". Each round would have a specialized section of the theme, such as mac and cheese. In each round, the contestants would be given points out of 100. The three judges included Katherine Alford, Kerry Simon and Russ Parsons. The judges would not watch the contestants as they judged. The top scorer of the night won the top prize of $25,000; plus, their recipe would be featured on the menu of T.G.I. Friday's.
The second season saw some format changes. Each episode had a theme, but four contestants competed for the entire program. The two rounds are signature, where the contestants have two rounds to make a dish, and the speed round where the contstants have 30 minutes for a dish. This time around, the judges watch the contestants all throughout the program. The judges for this season were Katherine Alford (returning from Season 1), Michael Psilakis (owner of Dona, Kefi and Anthos, three popular greek resaurants) and Linda Fears (editor-in-chief of Family Circle magazine).
Link
[
]