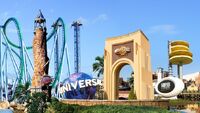 Universal Studios Florida is a theme park and real life working and television and movie production studio. Although many films and television shows were taped and filmed here, it also had some game shows taped as well. Universal Studios Florida is the sister of the other studios in Hollywood, Singapore, and Japan. Universal Studios is also across from the Islands of Adventure, in which it opened in 1999. Nickelodeon Studios, a former attraction and real life television studio was also at Universal Studios Florida.
Shows taped at Universal Studios Florida
Edit
That's My Dog (Season 2)
America's Funniest People (Season 3)
Secrets of the Cryptkeeper's Haunted House
Deal or No Deal (2018 version)
Family Feud (First year of Steve Harvey era, 2010-2011)
And all Nickelodeon game shows that taped at Nickelodeon Studios.