Narrator
Dan Piraro
Broadcast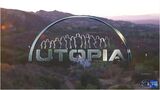 FOX: 9/7/2014 - 10/31/2014
Packager
Talpa Media USA
Utopia (based on the Dutch format of the same name) was a short-lived reality series that follows a group of everyday people creating their own new civilization who must attempt to maintain a society in a remote area.
Premise
[
]
The series follows a cast of 15 men and women who are placed in isolation and filmed twenty-four hours a day for one year. The cast must create their own society and figure out how to survive. the series is shown twice a week, with online streaming 24/7with 129 hidden and unhidden cameras all over the Utopia compound. The live streams began on August 29, 2014, the day when 15 pioneers will enter Utopia. Over 5,000 people auditioned for the series. Every month, three pioneers will be nominated for elimination to be sent back to their everyday lives. The live-streamers will decide which new pioneers get the chance to become Utopian.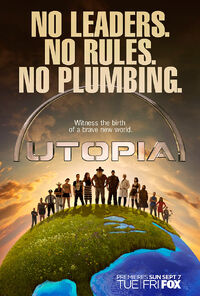 Rating
[
]

Music
[
]
Utopia by Daughtry
Trivia
[
]
The 2015 revival of Are You Smarter Than a 5th Grader? is used as a replacement for this series.
Similar Show
[
]
Kid Nation - a short-lived reality show for kids similar to Utopia that aired briefly on CBS in 2007.
Links
[
]