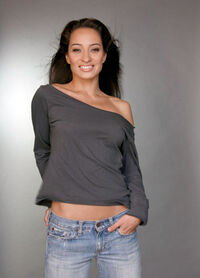 Vai Au-Hare Hoe (or Vai Tiare, born in 1981 in Tahiti) is an actress, dancer choreographer who was also one of the "Million Dollar Dancers" on ABC primetime's Show Me the Money in 2006.
Biography
[
]
Born and raised in the paradise island of Tahiti, Vai discovered her passion for dance at the early age of three through classical ballet. After drilling fundamental dancing techniques for many years in Hip Hop, Jazz, Salsa, Burlesque, Oriental, Ballroom, Vai finds herself unleashed in the crazy entertainment industry we call "Hollywood".
Her credits include working with top directors such as David La Chappelle, Paul Hunter Diane Martel Dave Meyers through music videos and commercials. Vai has also worked with artists such as Justin Timberlake, Lenny Kravitz, Usher, Craig David, Tony Braxton, and many more. You can also catch her in commercials for Dr. Pepper, Gap, El Pollo Loco, Motorola, Verizon and Chrysler.
For the last 2 years, Vai has found a passion for choreographing. Her versatility in many dance genres has given her the opportunity to choreograph for different artists and projects such as Chris Brown & Ciarra, Neyo, Gypsy Kings. Commercials for DSW Shoes and TV shows such as Dance Your Ass Off and Segundo Campeonato Mundial de baile.
Vai is now based in Los Angeles where she not only works as a choreographer and performer but where she is also pursuing acting. Vai is trained in Martial Arts, handguns, horseback riding, and many more. She, as of 2006, studied with Anthony Meindl. Her films include: Kiss Kiss Bang Bang, You Got Served, Undiscovered, O.J.T and Turbo.
Shows appeared
[
]
Link
[
]