Host/Executive Producer
Kevin Pereira
Judges
Adam Sessler
Sandeep Parikh
Brittani Louise Taylor
Broadcast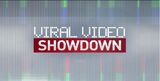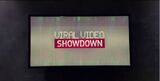 SyFy: 10/30/2012-12/5/2012
Packagers
495 Productions
Super Creative
Viral Video Showdown is a short-lived, reality competition series where viral video creators go head-to-head in a epic battle for bragging rights and a cash prize of $5,000.
Gameplay
Each week, two new teams get four days and a shoestring budget to create videos that best capture that week's theme. These talented guys and girls will have to dig deep into their bag of viral tricks and put their editing, writing and acting skills to the ultimate test and please the judges. 
Trivia
Host Kevin Pereira and Judge Adam Sessler were former G4 alumni who hosted Attack of the Show and X-Play respectively.
Judge Brittani Louise Taylor is known for being a YouTube star.
Link