Host
Peter Sagal
Co-Host/Narrator
Carl Kasell (1998-2014)
Bill Kurtis (2014-Present)
Broadcast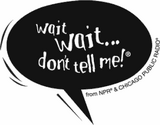 Radio - WBEZ 91.5, NPR Affiliates
1998-Present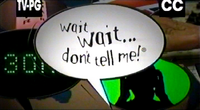 BBC America & BBC UK (Simulcast) - 12/23/2011
Radio - WBEZ 91.5, NPR Affiliates 12/24/2011
"From NPR and WBEZ Chicago, this is Wait Wait... Don't Tell Me!: The NPR News Quiz."
Wait Wait... Don't Tell Me! was a radio based quiz show where people are quizzed on the news and current events.
A television pilot was done in 2011 as a joint venture between NPR/PBS and BBC America, as a result of the deal, this special was also simulcast in the UK as well as all participating NPR affiliates.
Music
[
]
B.J. Leiderman
Inventor
[
]
Doug Berman
In popular culture
[
]
Peter Sagal hosted PBS's Constitution USA, which depicted constitutional rights and the power of free speech, airing for four consecutive weeks in 2013.
Did you know Bill Kurtis was one of the three hosts of Decades' original factual series Through the Decades? He has also executive-produced and/or narrated other factual programs, among them American Justice and Cold Case Files, among others. He was previously an anchor on WBBM CBS 2 News in Chicago.
Links
[
]