Host
Ned Sherrin
Broadcast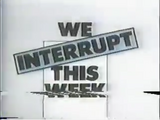 PBS (Weekly): 10/6/1978 – 12/29/1978, 2/2/1979 – 3/2/1979
Packager
Cadogan Productions/WNET New York
We Interrupt This Week was a short lived one year panel quiz game show.
Gameplay
[
]
Two teams of three panelists (one consisting of regulars (the Home Team) and the other consisting of guests (the Visiting Team)) competed in a tongue-in-cheek quiz where the questions were about the past week's news. Points were awarded in an arbitrary manner to teams whose players gave correct answers that were also inventive, charming, or provocative. The team with the most points were the winners and won a tasteless gift.
Music
[
]
Glen Roven
Studio
[
]
Studio 55, WNET Television, New York City, NY
Trivia
[
]
This was the first PBS game show to ever air on public television stations.
Host Ned Sherrin produced and directed the first BBC satirical program, That Was the Week That Was in the 1960s, and appeared as the on-stage narrator in the Broadway play Side by Side by Sondheim, where he was nominated for the 1977 Tony Award for Best Performance by a Featured Actor in a Musical.
Funding
[
]
Corporation For Public Broadcasting
Public Television Stations
YouTube Videos
[
]