Hosts
John K.M. McCaffery (January–April 1950, March–June 1951)
John Charles Daly (June 1950 – January 1951)
Announcer
Bill Shipley
Broadcast (CBS)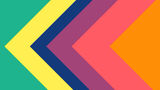 Radio: 2/5/1950 – 7/6/1951
Primetime: 4/1–22/1950, 6/9/1950 – 1/23/1951, 3/9/1951 – 6/1/1951
Packager
CBS News
We Take Your Word was a primetime game show where viewers sent in words and the panelists attempted to provide the definitions, derivations, and histories of the word.
Gameplay
[
]
A celebrity panel tried to guess the definitions of words submitted by home viewers. The home viewer was given a book prize for using the word and if the panel couldn't define it correctly, the home viewer won $50. Panelists were fined $10 for making any infraction of the show, including offending the host's judgement; however, they could cancel the fine by giving the correct definition of a word or the correct answer to a question posed by "voice of authority" Tony Marvin.
Rating
[
]

Studio
[
]
CBS Studio 41, Grand Central Studios, New York City, NY
Trivia
[
]
The show's first TV run in April 1950 was as an experimental program with John K.M. McCaffery as host. When the show returned for a regular run two months later, he was replaced by John Daly. McCaffery returned as emcee in March 1951.