Hosts/Auctioneers
Leonard Rosen as "Liberal Bill" (ABC)
Robert Alda (DuMont)
Announcers/Assistants
John Reed King
Dick Shepard
Bernie Koll
Broadcast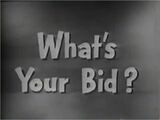 ABC Primetime: 2/14/1953 – 4/18/1953
DuMont Primetime: 5/3/1953 – 6/29/1953
Packagers
RKR Productions/Charles Antell Productions
What's Your Bid was an early predecessor of The Price is Right. On this show, merchandise items were put up for bids to the studio audience. The highest bidder got the item, with the proceeds going to charity.
Premise
[
]
Members of the studio audience used their own money to bid for merchandise items with all the proceeds donated to the charity of the week. The host, who doubled as auctioneer, frequently added merchandise to the original item in the bid.
A weekly feature let three home viewers participate in a special auction by phone with John Reed King, Dick Shepard, and Bernie Koll relaying the bids to the host.
Taping Location
[
]
New York City, NY
Trivia
[
]
The show was primarily sponsored by Charles Antell Inc., makers of Formula 9 and Liquid Crème shampoo. All participants received samples of the products.
YouTube Links
[
]