Hosts
Walter Raney (July–September 1951)
Walter Kiernan (1951–1953)
Al Capp (June–Late 1953)
John K.M. McCaffery (1953–1955)
Announcer
Fred Scott
Broadcast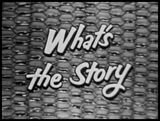 DuMont Primetime: 7/25/1951 – 9/23/1955
Packager
DuMont Television
What's the Story was the last primetime game show to air on the DuMont network. On this show, a panel of well-known newspaper columnists and/or celebrities were asked to identify famous events from clues that were given by the moderator and his assistants.
Gameplay
[
]
A panel of four news reporters tried to identify news stories with clues supplied by "reporters" who telephoned in their clues. Viewers who submitted ideas that were used received a prize if their story stumped the panel.
Taping Location
[
]
New York City, NY
Trivia
[
]
In its four-year run, What's the Story was aired in eleven different time slots every day of the week (except Mondays and Saturdays).
This was the last entertainment show to go off the DuMont network. The only programs aired by the network after this were sporting events, per prior commitments, until August 1956 (when the network shut down for good).