Hosts
Robert Trout (1948–1951)
Walter Kiernan (1951–1954)
John Charles Daly (1955)
Announcers
Radio:
Peter Roberts
Television:
Kenneth Banghart
Rex Marshall
Bill Cochran
Peter Roberts
Dick Dudley
Durwood Kirby (1955)
Broadcast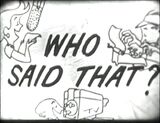 NBC Radio: 7/2/1948 – 9/24/1948, 1/2/1949 – 4/17/1949, 7/2/1950 – 8/22/1950
NBC Primetime: 12/9/1948 – 2/18/1951, 4/5-26/1952, 4/13/1953 – 7/19/1954
ABC Primetime: 2/2/1955 – 7/26/1955
Packager
NBC Television (1948–1954)
ABC Television (1955)
Who Said That? was a news quiz featuring a panel composed of journalist and guest celebrities who tried to guess the author of a quotation that was recently in the news.
Panelists had to describe the circumstances surrounding the quote. Starting in the television version in December 1948, they were each penalized $5 if they did not come up with the correct answers. The money went into a jackpot which went to a home person if they sent the quote, or to a charity if they were thought up by the producers. In addition, home people were also to submit the "All-Time Quotes" (one of the most important quotes in all of the news) and if one was used on the show, the viewer won a $50 bonus.
Here is a list of the celebrities that were a part of the panel:
Morey Amsterdam
Al Capp
June Lockhart
Bennett Cerf
Oscar Levart
Bob Considine and Earl Wilson
John Cameron Swayze
Boris Karloff
H.V. Kaltenborn
Frank Conniff
Deems Taylor
Peggy Ann Garner
Alfred Vanderbilt
Dagmar
A British version of the show aired on BBC-tv from 26 July 1955 to 19 September 1958. It's hosts included Alan Melville, Lionel Hale, and Gilbert Harding.
New York City, NY
A full episode from March 30, 1953 (Panel: Frank Conniff, Deems Taylor, Dagmar, H.V. Kaltenborn)
A full episode from April or May 1953 (Panel: Bill Henry, George Gobel, June Lockhart, Merriman Smith)
A full episode from May 10, 1955 (Panel: Quincy Howe, June Lockhart, Groucho Marx, Bob Considine)
Community content is available under
CC-BY-SA
unless otherwise noted.