Host & Inventor
Stan Lee
Broadcast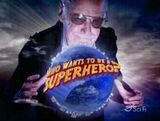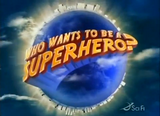 Sci-Fi: 7/27/2006 – 9/6/2007
Packagers
POW! Entertainment
Nash Entertainment
Distributor
Sci Fi Productions
Who Wants to Be a Superhero? was a reality superhero game show.
Gameplay
[
]
Contestants dress up as comic book superheroes based of their own invention. Each week, Lee challenges the contestants to represent what "superheroes are all about." One or more of the superheroes deemed the least deserving is eliminated per episode. The grand prize for the winning superhero is to have his or her character star in a Dark Horse Comics comic book written by Lee and appear in an original movie to be aired on the SyFy Channel. The winner also receives a trip for two to Universal Studios Florida to participate in the park's Parade of Superheroes.
Catchphrase
[
]
"Please turn in your costume!"
International Versions
[
]
There are versions of this show in the United Kingdom, Hungary, Israel, and Australia.
Merchandise
[
]
DVD's for both seasons were released. Season 1 in 2006 and Season 2 in 2007.