Host
Allen Ludden
Announcer
Jay Stewart
Broadcast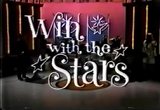 Syndication (Weekly): 9/18/1968 – 9/10/1969
Packager
Stuart Phelps-Jesse Martin Productions
Distributor
TeleCom Productions Inc.
"It's time to Win with the Stars! And now, here's the star of the show, Allen Ludden!"
Win with the Stars was a short-lived musical game show where celebrity/civilian teams competed to name & sing as many songs as possible, as fast as possible.
Gameplay
[
]
Two teams of two (each consisting of one celebrity and one contestant) competed in a game identifying & singing songs. Each team had 45 seconds to guess as many songs as possible, with an attempt to sing the first two lines of those songs after each guess. Each song title was worth five points, and the team also earned one point for each correct word in those lines. When singing the first lines, if at any time the team sang an incorrect word, a horn would sound and they would stop there. When time ran out, the other team would have a chance to play.
The First Two Games
[
]
Four new contestants played the first two games (two for each game) with the highest scorer in each game advancing to Game 3.
Game 3 (The Final)
[
]
Played like the first two rounds, but with the winners of the first two games facing off. The winner of this game had their total winnings doubled.
Adverts
[
]
TV Guide

[

]
Flyer
[
]
Music
[
]
Bobby Hammack
Inventor
[
]
Based off a previous game show What's This Song?.
Studio
[
]
NBC Studios, Burbank, CA
Note
[
]
The horn used was carried over to the syndicated version of The Hollywood Squares.
YouTube Link
[
]